Cardamom is used as a spice in sweet as well as in savoury dishes. It comes from the ginger family. It is used in Indian, Middle Eastern, Arabic and Swedish cuisines. It is found in garam masala, a mixture of spices that is used to cook meat and vegetables and also in hot beverages like masala chai and Turkish coffee. It can be used as a whole or freshly grounded. There are two types of it and they are black and green cardamom. It is also known as Cardamon and in Hindi, it is known as Elaichi. It is also known as Queen of Spices.
Along with saffron and Vanilla, it is also considered one of the most expensive spices. It is native to India specially to Southern India and other parts of South Asia. It is also grown in Guatemala who is the largest producer and exporter in the world. It is also considered one of the oldest spices. Ancient Egyptians used it for medicinal purposes and as well as for rituals and even for embalming. The Greeks and Romans used it for perfumes and aromatic oils. 
It has aromatic seeds which are used in Indian dishes. It not only serves as a breath freshener and digestion aid in Chinese and Ayurvedic medicine but also has a role in lowering blood pressure and blood sugar levels. The presence of antioxidants helps in reducing blood pressure. It lowers blood pressure as it has Diuretic effect which increases urination and removes the water built in the body.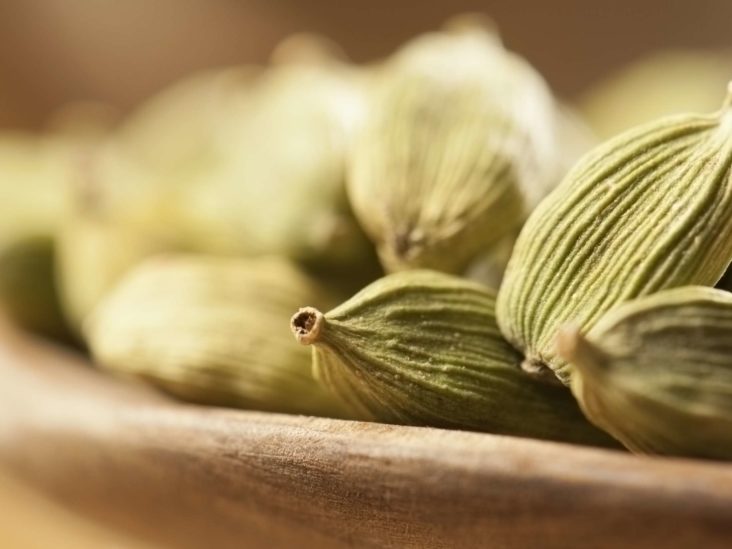 Cardamom also plays a very important role in digestion. It helps in curing many stomach related issues. It contains chemicals that increase the movement of food in the intestines. Cardamom tea helps in flushing out the toxins from the body. Black cardamom reduces blood sugar levels as it contains high levels of magnesium which controls it. It also boosts your metabolism which helps in weight loss. It helps the body to burn fats more quickly.
The essential oil from this spice also reduces sleep issues like Insomnia, restlessness and anxiety. Inhaling the sweet and aromatic smell of the essential oil helps in calming our emotions and makes our mind more relaxed. It is also known to boost the circulation of blood in our bodies. It is often used as a natural remedy to treat respiratory diseases. It keeps your energy levels high and maintains your vitality. You can scoop out the seeds, crush them and can add them to your milk, a cup of tea or coffee or simply with warm water and honey.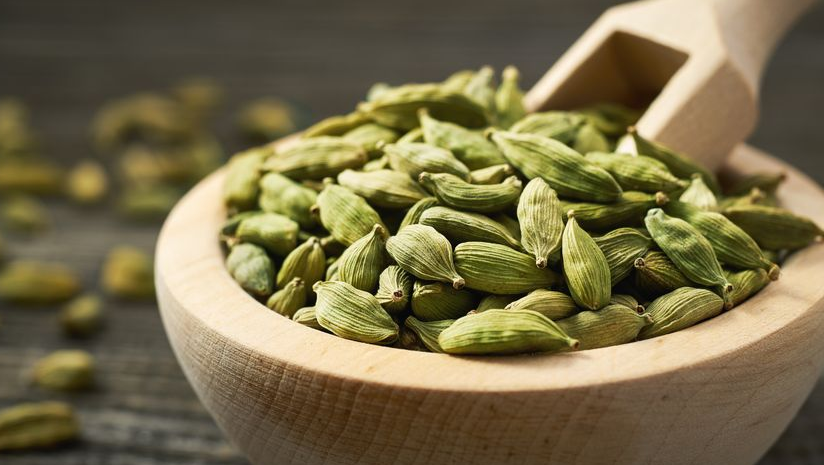 The oil from the Cardamom seeds helps in killing any kind of bacteria and fungi. Research shows that its antimicrobial activity can kill many microorganisms. Other studies show that it can also be a component in antimicrobial drugs. However, before using any kind of remedy always consult a doctor and take necessary precautions while taking any kind of medication. It also acts as a very good breath freshener. It reduces bad breath as it has anti-bacterial properties which neutralise the dental bacteria.
It also manages the sore throat because of its antimicrobial and anti-inflammatory properties. It might also be useful for managing bronchitis and symptoms related to it as it has antimicrobial, anti-inflammatory ( which loses the mucus and helps in relieving from bronchitis) properties. Gas is formed because of impaired digestion and cardamom has been a digestive aid and has carminative and gastroprotective agent which helps to improve the digestion and prevent gas formation. Hyper-acidity is the main reason for heartburn and the main reason for indigestion. The gastroprotective agents lower the secretion of gastric acids and prevent heartburn.
When you have a loss of appetite Cardamom powder helps increase appetite. When taken with honey helps in improving your eating habits. It is also helpful to some women during their menstruation. Cardamom is not only used for medicinal purposes but also used in cooking delicious meals. All our Indian dishes are incomplete with this spice and we need it to make our food more aromatic. One of the most special qualities of this spice is we can use it throughout the year. Its warming and stimulating character during cold months in chai or any warm drink and its spicy freshness in summer meals like grilled meat or vegetables.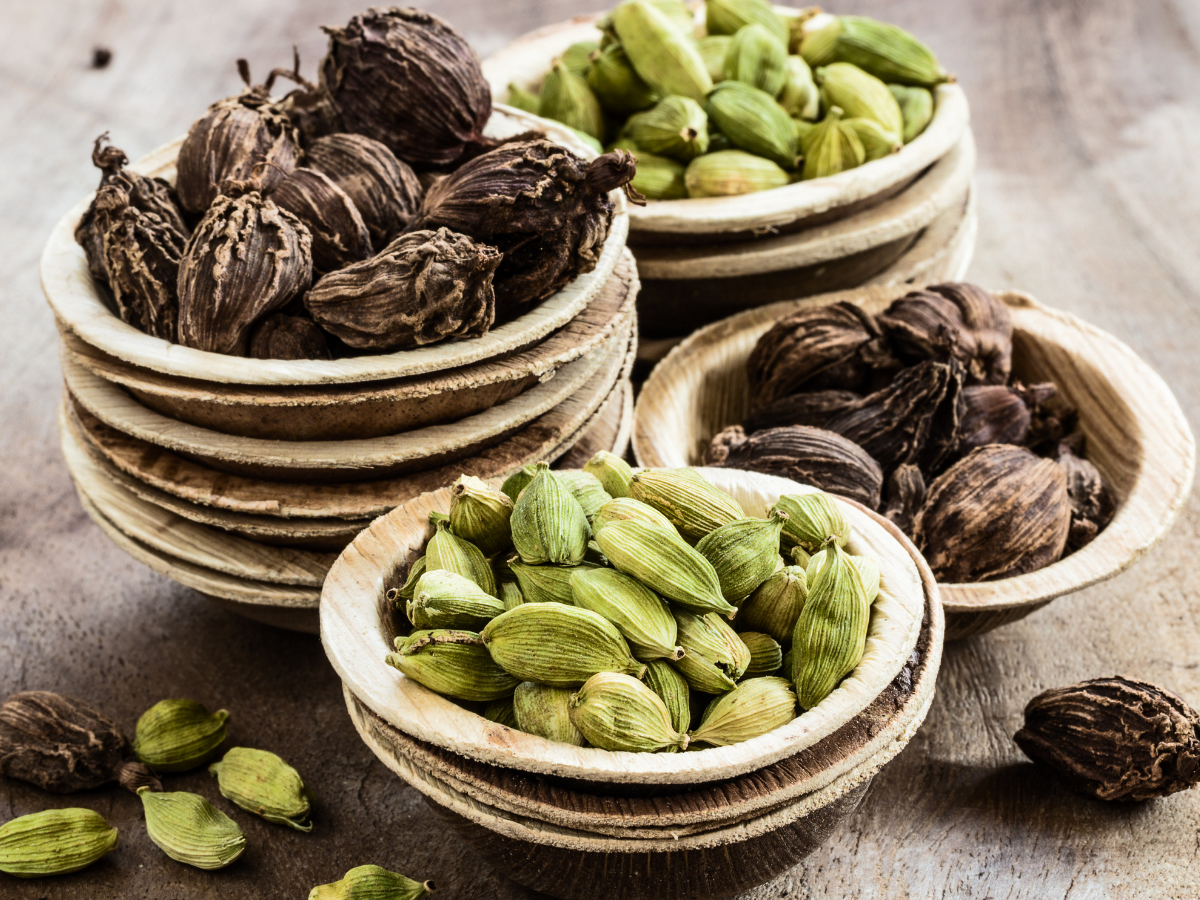 Cardamom essential oil helps in removing blemishes in the skin. You can mix cardamom powder with honey and use it as a face mask. This face mask also helps in treating skin allergies. Its antiseptic and anti-inflammatory properties calm and soothe the skin. Black cardamom helps in releasing toxins that are harmful to the skin. The essential oil is added to cosmetics that are used on lips. You can simply apply the oil on your skin before sleeping and wash it off in the morning. Chewing it raw helps in detoxifying the body thus giving clear skin.
The antioxidant properties of it help in nourishing the scalp and improving the health of hair. It nourishes the hair follicles and strengthens the hair. Its anti-bacterial properties treat the infection in hair if you have any. While strengthening the hair roots it also gives your hair shine and lustre. So, not only heath it also takes care of your skin and hair.
To conclude this Cardamom can be used in various ways for body, mind, health, skin and hair. So, go grab your spices and share benefits with your loved ones.